P.BIBEAU

Current


Wrecking Ball,

Kate Mackeson


May 13th - June 25, 2022

Past


Silver Tongue, Rachel Marisa LaBine


Prescribed Liberalism: Shana Hoehn, Andrea McGinty,
Whitney Hubbs, Andrew Chapman


Flowers, Sandra Ono




Photographs, William Koone




Answer Collecting, Pamela Yu-Han Sun




The World As Willful Misrepresentation, James Bradley




The Birth of Venus, Haena Yoo




1989 Lucy Puls




A Broken Frame




Midnight Sun





Information





Wrecking Ball
Kate Mackeson

May 13 - June 25, 2022


"Instead of considering truth, I considered the effects."
('Digestif', Kate Mackeson at La Plage)

Press Release

On February 26, 2020, Elise Stefanik, a congresswoman from New York and a member of Donald Trump's impeachment defense team, received a round of applause while being publicly acknowledged by Trump a day after the US Senate acquitted him on two articles of impeachment. In the image Stefanik stands out in a red dress in a sea of mostly navy or black suits, a newly minted symbol of Trumpism. Stefanik, once lauded for being a millennial moderate, induces both identities through physical signaling that applies splitting based on the viewer.

Kate Mackeson is interested in the repetitional value of images depicting distinguishable women wearing a red dress, the human impulse to categorize their grouping, and the problem of "inessential ornament" in the way information is accepted or assumed based on the aforementioned details.

Visualized through a mix of architecture and iconic imagery, the works in Wrecking Ball apply a presupposed value where the stereotypical symbol of each woman acts as a main driver for the images selected by Mackeson. As a literal interpretation of the visual and mental climb these roles provoke, the grouping of 'women' and 'red dress' become a physical barrier built of immediate, predetermined stereotypes and their worn references materialized in thin aluminum framing.

The social coding of the stereotype traces itself back to an impulse. The largely recognizable female celebrity or politician in a red dress, whether celebrated or hated, conjures a certain stability through signaling. The strength of the image coupled with Mackeson's precarious framing structure allows for a coexistence of both instability and stability. One does not corrupt the other, rather the two definitions share a sightline that disowns the individual for the sake of the category.

Historically women have faced unique scrutiny through socialized mechanisms coded to dissolve the individual host into concepts that cycle through polarities meant to provoke on demand. The caging definition of a 'woman in a red dress', a mythological type, acts as a compulsion to signal visibility through a framework, an element that is activated through the sculptural works.

Each of the sculptures in Wrecking Ball features a cutaway, archway, or other architectural detail suggesting an interruption to power of the image, rendering the projection without density beyond the framing. This module choice informs our current limits of truth, implying memetics as a narrative device influencing reason more than reality itself.

Kate Mackeson (b.1985) lives and works in London and received an MA at the Royal College of Art (London) in 2015. Mackeson has exhibited widely including Sundy, (London), Villa Concordia, (Germany), Pozi Driv Two, (London), Fructa, (Munich), La Plage (Paris), Exo Exo @ New Galerie (Paris), Cell Project Space (London). Wrecking Ball is Mackeson's first solo exhibition in the US, she is represented by Sundy, London.

Images: Michael Popp
Embers, 2021
archival print on aluminum, fire poker
25 x 30.70 x 4.25 inches
unique

Amplifiers IV, 2022
archival print on aluminum, chain
26 x 17.5 x 14 inches
unique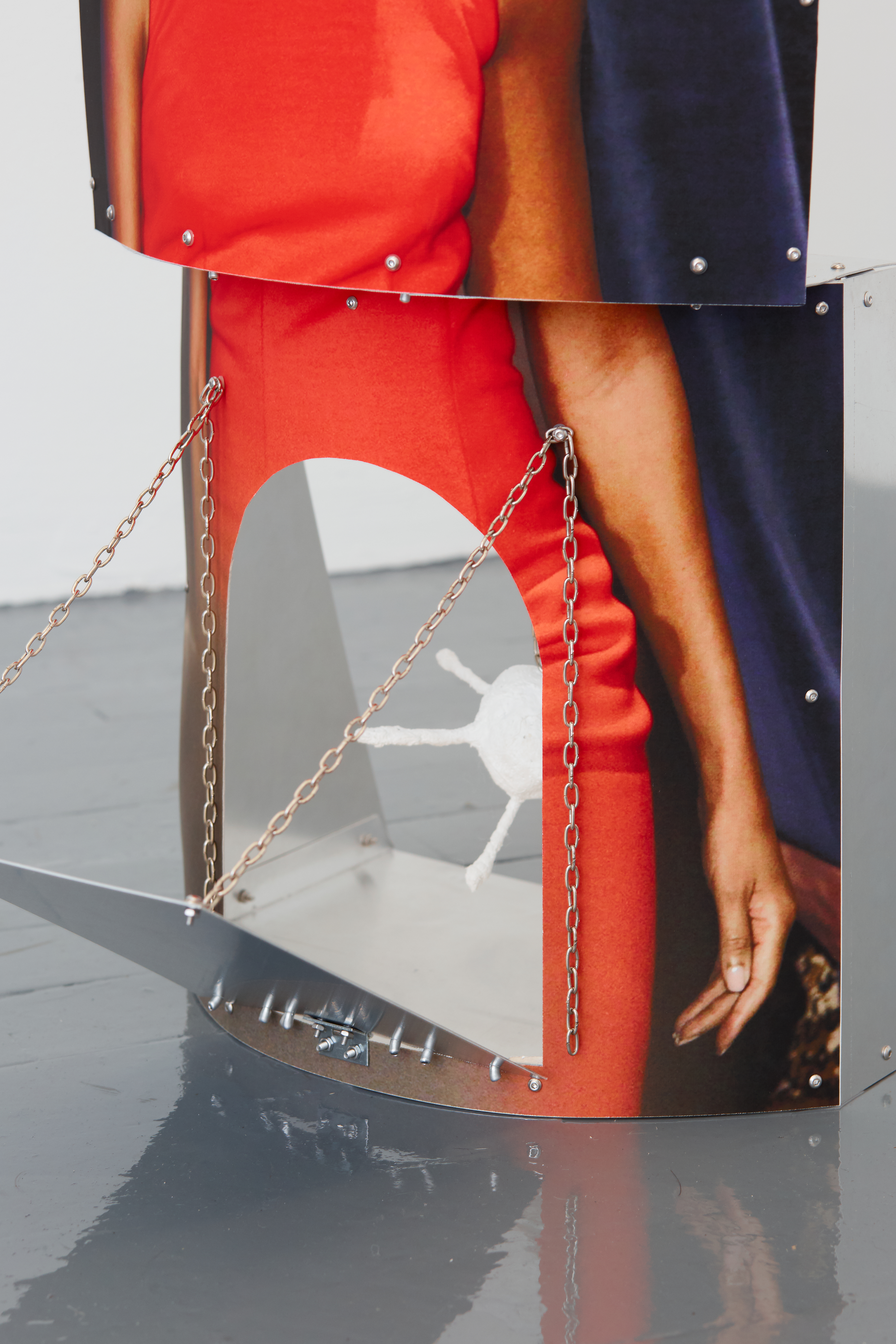 Untitled (dress rehersals), 2022
archival print on aluminum
48.5 x 8.75 x 16.5 inches
unique



The Prompter, 2022
archival print on aluminum
16.5 x 14.5 x 14.5 inches
unique


Rachel Marisa LaBine
Silver Tongue

March 24 - May 8th, 2022


P.Bibeau is pleased to present Silver Tongue, an exhibition of new work by Rachel Marisa LaBine on view from March 24 until May 8th, 2022.

Rachel Marisa LaBine's paintings actualize an almost discernible space. Hovering in and collapsing the distance between physical object and composition, they draw equivalencies to the transience of constructed human desire in an image-laden world. Employing replication of familiar cultural and architectural elements as anchors, LaBine allows fragments of the original composition to dissipate and ultimately merge with the plasticity of line, color and symbolism.

The slippage between two-dimensional composition and physical scale emphasizes the viewer's physicality within time, and points to flatness as an increasingly pervasive societal condition. The paintings are caught in current time as they concern binary thinking, propaganda, cultural artifact, and structures that maintain order and the aftereffect of each, dualistically. Calling attention to the virtual simulation of life constructed through a screen, the compositions are motionless and attempt to conjure personal memory, unseen spaces, and the tension of static representation contemporaneously. An oscillating hierarchy between figure and ground implies a meditative device to elicit a sense of curious dislocation for the viewer, distilling attentional agency from pictorial ambiguity.

In Headless, LaBine builds and dissolves a symmetry through visual indicators including neoclassical architecture, collateral from advertising campaigns, and elements from Disney's Sleeping Beauty, using stylized romanticism to draw a parallel between the consolidation of power and the manufacturing of individual desire. In real terms, this allows the painting to lose its reliant order to shadow, solidary objects, endless passageways, vast space or archways, and collide with abstraction.

In an attempt to further engage the physical space and the compositional surface, Ravine manipulates polyester chiffon into a cascading, translucent plane, evoking geological formation, weather, and an ominously oversized gown. The addition of paint onto the substrate, while allowing for visibility of its original construction, further complicates the new reality of the object: it's equally familiar and new, unresolved yet convincing in permanence. Similarly, Highway monocle applies the language of light reflecting off of a spherical, mirrored surface. The tiny size of the painting is at odds with its large-feeling composition and visual hints of a planetary scale. The result is a flattened construction that both reveals and removes the objective space in the picture plane.

Considering mediation of images and their value in unspoken cultural adherence, Mr. Pyrite posits the seen and unseen features of a construct: a cartoon still from the 1930s and the labyrinth underscore of what was being projected through the medium. Here an entangling of the two is presented by a twisting of the archaic technology of cel animation, during a time when a screen was synonymous with entertainment yet possessed far sinister agendas. Today's fusion of the attention economy and the entertainment industry demand a similar blurring of the lines between real and virtual, truth and post-truth, fakes and deepfake. In this spirit LaBine's paintings provoke nested formal and social paradoxes, suggesting the further the polarity, the closer they become.

Rachel Marisa LaBine lives and works in New York City. She received her MFA from Columbia University, New York (2019) and her BFA from RISD (2010). LaBine's work has been included in several group exhibitions including False Flag, New York (2021), Night Gallery, Los Angeles (2019), Lyles & King, New York (2017), Ms Barbers, Los Angeles (2017) and previously had a solo exhibition at Fourteen30 Contemporary, Portland, OR (2019). In 2019 LaBine received the Rema Hort Mann Emerging Artist Award.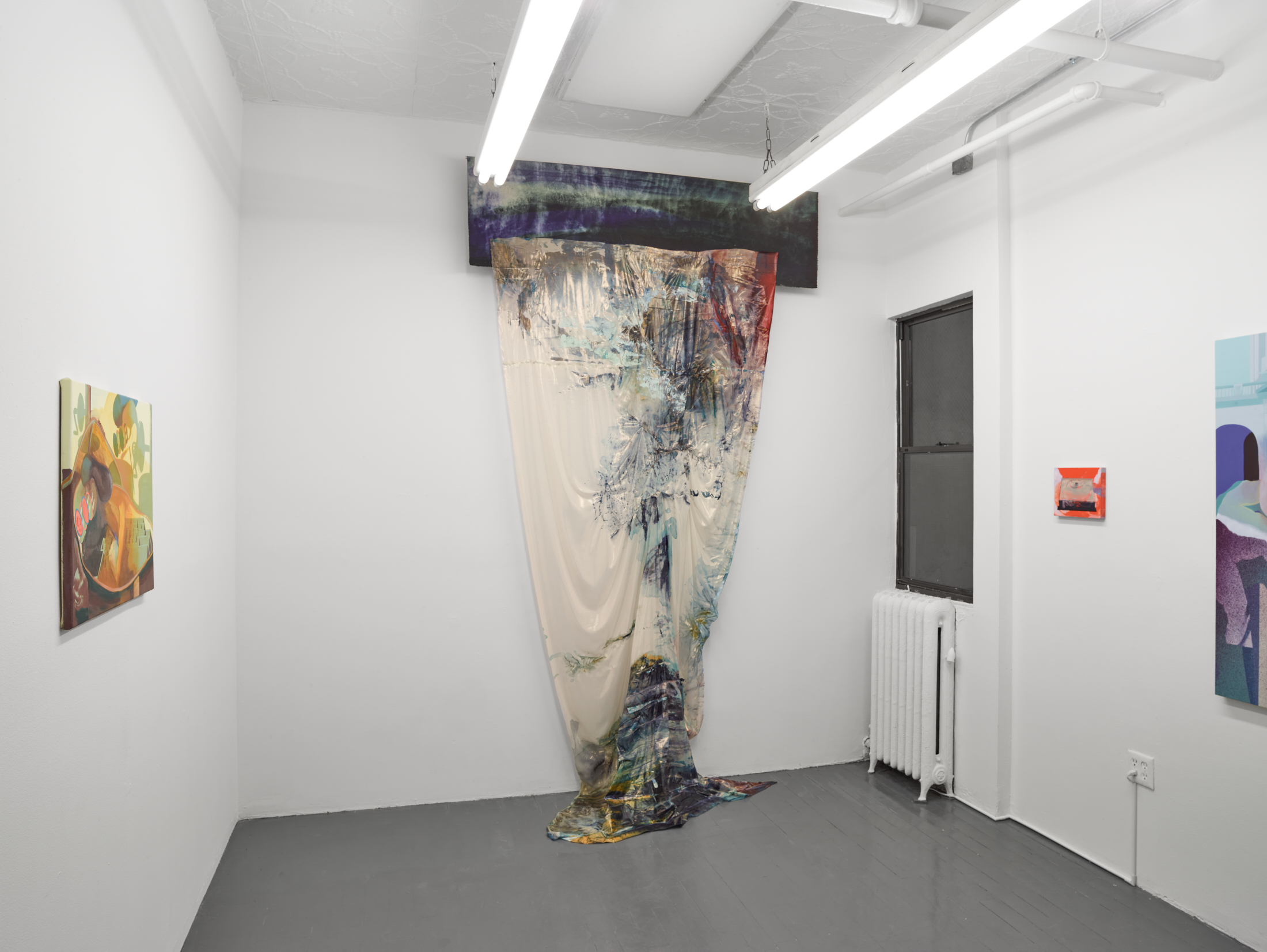 Rachel Marisa LaBine
Highway monocle, 2022
oil on panel
6 x 8 inches (15.24 x 20.32 cm)
unique




Rachel Marisa LaBine
Gossamer cell, 2022
oil on panel
8 x 10 inches (20.32 x 25.4 cm)
unique




Rachel Marisa LaBine
Mr. Pyrite, 2022
acrylic and oil on canvas
20 x 25 inches (50.8 x 63.5 cm)
unique





Rachel Marisa LaBine
Headless, 2022
acrylic and oil on canvas
47 x 40 inches (119.38 x 101.6 cm)
unique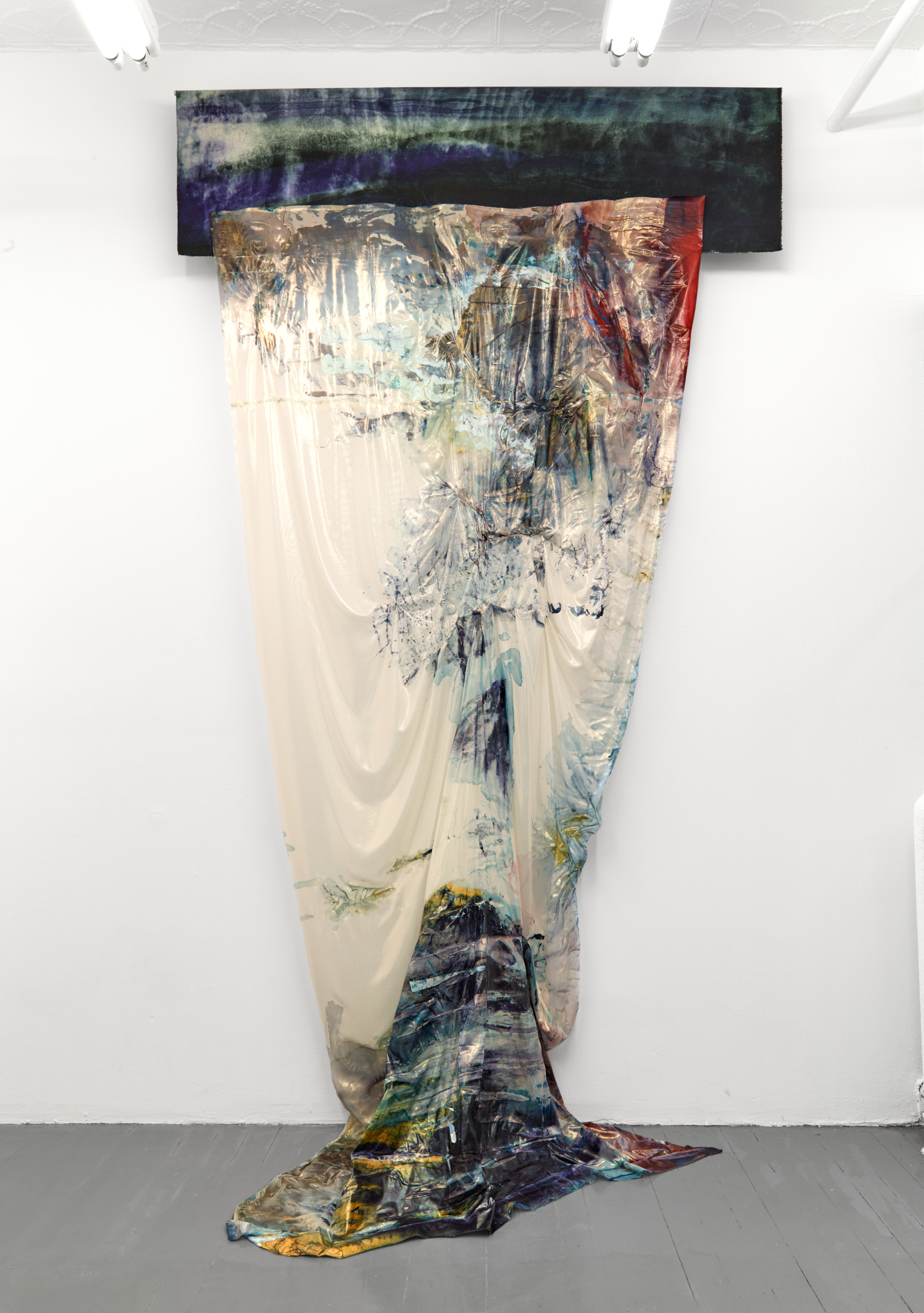 Rachel Marisa LaBine
Ravine, 2022
Acrylic, polyester chiffon, canvas, aluminum, collage
115 x 58 x 12 inches (292.1 x 147.32 x 30.48 cm)
unique


Prescribed Liberalism

Whitney Hubbs
Andrea McGinty
Shana Hoehn
Andrew Chapman

January 18 - March 12, 2022



Checklist



The process of normalization rejects examination in exchange for convenience. The works in this exhibition address a refusal to deny the reality of a world already possessed and the complicated, internal chance for freedom such clarity provides.

In this context 'Prescribed Liberalism' presents itself as a simple joke. Through prescribed ways of being and knowing based on social alignment, an intake of the world becomes a prediction. Denying the act of possibility and instilling an order of adherence, normalization presents a gauge that provides a short term formula hinged on strategies independent of any individual reality or true complexity. 'Prescribed Liberalism', used here as a simple moniker for the sake of an exhibition, declines order through continued, long standing inquiry into human desire, the process of aging, the devastation in the concept of America, and the mystery of the unknowable.

Each work in this exhibition reveals an open-ended curiosity towards life during a moment of deep polarization. A self portrait, or a sculpture created from household products, for example, becomes suspended in time based on conditions unique to its composition. A self portrait taken today is different from one taken next year, a household item in circulation now is a dated artifact by next season, and so on. Instead of creating art for an audience or appealing to the process of normalization through trend or ease of content, provided is a well-devised plan of escape constructed using elements of daily life revealing the theater of objecthood or the implication of historicism and its blind adaptation. It's through years of sustained inquiry in the same performance, the same materials, and the same narrative altering only slightly that allows for a clarity beyond prediction. Through this unique measurement each artwork herein replicates a personal agency that plainly "attends life and its possibilities" 1

Whitney Hubbs moved from taking pictures of other people's bodies (body doubles), to imagining objects as bodies, to self portraits. These photographs are imagined, produced, directed and captured alone without an audience in a makeshift studio space Hubbs maintained in Hornell, New York. Each image presents an effort of potential loss which could mean nothing at all as the audience does not exist, or everything as she actively challenges her own limitations. Hubbs finds freedom in the absence of the voyeur and conjures scenes based on the moralized concepts of shame, gluttony, invisibility, humiliation, humor and freedom.

Andrea McGinty uses highly identifiable objects to create constructions related to concepts of home. Pairing scalable domestic carrier objects in precarious compositions, McGinty casts these domestic possessions as life-affirming models revealing their static state and potentially empty development. The energetic shell of these aspirational objects signal to each other, whether they come by way of ease (pourable cat litter), leisure (plastic lawn chairs, drink cooler, costumes), or false security (coyote decoy). The small flicker of hope lives plainly in the object's own availability and familiarity as a material placeholder for human desire.

Andrew Chapman approaches object making as a pure, material record of the unexplained. Rooted in painting, his work seeks to uncover what he calls a "photographic realism within abstraction." Possessing both precision and chance through the cumulation of minute, calculated mark making, 'Fulcrum (Nest)' (2022) presents an image that is unsuspectingly rendered. The painting's resolution subverts its happenstance appearance, pausing on the idea that the biographical data that permeates our physical world is simultaneously imbued with as much truth as it is mystery.

'400 years of digestion, serpent swallows ship' (2019) by Shana Hoehn begins with the replication of a Plymouth brand hood ornament, an object historically modeled after the Mayflower, taking the form of a serpent. Made of bronze and suspended mid-air, the tension between the serpent head and the breast wall mount captures the entrapment of our history 400 years in the making. The chilling exchange is irrevocably bound by a chain, highlighting an interdependence of the pursued and the pursuer.

—————-

1 Hsu, Hua, 'What Normalization Means', The New Yorker, November 2016



Installation
(Images: Michael Popp)




Individual Works
Shana Hoehn
400 years of digestion, serpent swallows ship, 2019
bronze, steel
24" x 44" x 8" inches (60.96 x 111.76 x 20.32 cm)
unique

Whitney Hubbs
Chipotle 2, 2020
Polaroid
8 x 10 inches framed
unique

Whitney Hubbs
Saran Wrap, 2020
Polaroid
8 x 10 inches framed
unique
Whitney Hubbs
Sarah Lucas, 2021
Polaroid
8 x 10 inches framed
unique


Andrew Chapman
Fulcrum (Nest), 2022
Acrylic on panel
18 x 16 x 1/2 inches (45.7 x 40.6 x 1.3 cm)
unique

Andrea McGinty
Clorox, 2021
hand-dyed denim jacket, plastic zip-top bag, mixed media, paperclip, lighter, Rapala fishing lure, flag pole, bleach bottle, concrete
41.5 x 16 x 8 inches (105.41 x 40.64 x 20.32 cm)
unique
Sandra Ono
Flowers

October 30 - December 23, 2021

P.Bibeau is pleased to announce Flowers, a solo exhibition from Berkeley-based artist Sandra Ono.

Ono's sculptures present as a gesture informed by political and social narratives through adopting synthetic and ubiquitous materials as an equal absorber and surrogate. The union of Ono's material selection, often mass produced or found in nature, uses scale and multiplicity to confront the physical likeness of the material body while considering form as uniquely realized and sensitively attuned to the narrative.

Flowers references the 1979 Greensboro Massacre and Ono's namesake, Sandra (Sandi) Neely Smith, who at the age of 28 was slain by the American Nazi Party and Ku Klux Klan during a 'Death to the Klan' protest against the continued racial injustice in Greensboro.

Sandra Lee Neely Smith (December 25, 1950 – November 3, 1979), was born in Piedmont, SC. Smith was a community organizer for the Greensboro Association of Poor People (GAPP) and became a worker at the textile mill where she and others formed the Revolution Organizing Committee (ROC) to unionize the plant. Sandi was a leader of a march of over 3,000 people in Raleigh to free the Wilmington 10, ten young activists jailed on false charges to stop them from organizing. During the Greensboro Massacre, five protesters, including Smith, were gunned down in broad daylight by the KKK. Ono was named after Smith, a friend of her parents, and was handed down two silver rings worn by Smith.

The materialism of each sculpture uses abstraction to recreate a trace, confirming a space for the remembrance of lives taken and the impact it had on the community. Ono uses sand and resin to replicate soil, ceramic as the impression of fingerprints, and denim, which is specifically demonstrative of the Cone Mills textile plant that produced cotton fabric denim.

In Untitled (Greensboro V) Ono laboriously deconstructs denim thread by thread to reconfigure and portray the material resiliency while connecting the constitution of denim to the tenants of activism that Smith was known for. Untitled (Greensboro II) is made entirely of compacted sand with concave fingerprint impressions allowing evidence of existence into the substrate. Ono has cast a sterling silver ring in replication of Smith's ring, and embedded it into the sculpture.

Using bath towels and acrylic, Ono multiplies layers of towels providing a landscape grid in Untitled (Greensboro VI). The formal composition allows the work to function as tightly hewn uneven plots of land, and the chosen material as an absorber for acrylic stains. Finally, the largest sculpture in the presentation, Untitled (Greensboro III), resists a traditional wall display and acts as a piece of solid soil excavated, leaning up against the wall at an angle. This sculpture is composed of compacted sand and features a cast resin ring and ceramic objects inserted throughout imprinted with the dragging of Ono's fingers.


Sandra Ono received her MFA from Mills College, following undergraduate studies at UC Davis and Imperial College, London. She has shown her work in exhibitions locally and nationally at venues such as Southern Exposure, Stephen Wirtz Gallery, Incline Gallery, Electric Works, San Jose Institute of Contemporary Art, Transmitter gallery in Brooklyn and in solo shows at Conduit Gallery in Dallas, Texas. Ono currently serves as visiting faculty lecturer at Mills College and has been awarded artist residencies at Headlands Center for the Arts, Minnesota Street Project, University of Texas at Dallas CentralTrak, Mascot Studio, Kala Art Institute, Southern Exposure and the Vermont Studio Center. Ono was the first recipient of the TOSA Studio Award established by the generosity of Victoria Belco and William Goodman. Flowers is Ono's first solo exhibition in New York.


50% of proceeds will go to the Beloved Community Center in Greensboro, North Carolina (split equally between the gallery and artist).




Untitled (Greensboro II), 2020
sand, sterling silver ring, resin
9 x 11.5 x 1 inches



Untitled (Greensboro V), 2019
denim, resin and dye
11 x 13 x 2.5 inches



Untitled (Greensboro III), 2019
sand, cast resin, ceramics
48 x 37 x 1.5 inches




Untitled (Greensboro VI), 2021
towels and acrylic
41.5 x 31 x 3.5 inches